The Magnificent Roar
It came lumbering out of the distance, then closed with a magnificent roar. It disappeared into the distance and became visible again only as it taxied toward us after landing.
That huge sound, so different from the scream of today's jet airliners, comes from the four radial engines on its wings that together develop about 10,000 horsepower. These 18-cylinder mechanical marvels drive massive four-bladed propellers enabling this heavy machine, loaded with bombs, to cruise at high altitude at more than 200 miles per hour. It was the most technologically advanced bomber of the era.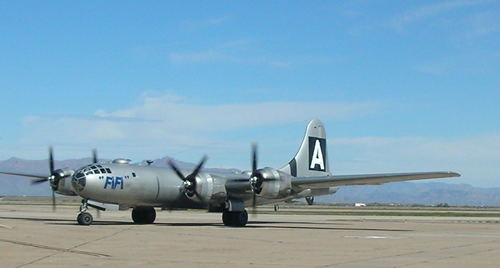 Anya and I clambered up into the bomb bay as it sat silent on the taxiway. My thoughts veered to the intrepid aircrews that willingly flew thousands of miles and subjected themselves to danger in such a confined, aluminum tube. (see photo)
We had to crouch, then move forward through the radio, engineer's and navigator stations. Care was needed to avoid the dense tangle of ducts, cables, and braces. Ahead, we stepped down toward the pilots' seats, sun streaming in through the curved windows of the nose. In front of, and below the two pilot seats was the heart of the machine—the bombardier's station. It was there, I remembered, where 1st Lieut. Paul O'Brien had been when his world instantly changed.
While I was a staff member at the Lab, Paul was one of my supervisors. He walked with an obvious limp, and by habit often massaged his left leg with his hand. That was because, on that bomb run in January 1945, a shell fired from an anti-aircraft gun on the Japanese mainland blew a hole in the nose of his B-29 and nearly severed his leg below the knee. With that, and gashes and shrapnel tears elsewhere, it was all he could do to remain semi-conscious.
An icy gale burst at him through the hole in the nose. But fortunately, the plane was able to continue flying. When it finally returned to base, the nearly-frozen Lieutenant was quickly removed to the hospital. That sub-zero air blasting through the nose had frozen his wounds, preventing him from bleeding to death.
We were part of the group touring a restored B-29 named Fifi. Despite the nearly four-thousand B-29s built during the war, Fifi remains the only B-29 Superfortress now flying.
The atomic bombing of Japan is correctly credited for obtaining its quick surrender, thus ending World War II. But, as Japan's prominent politician Fumimaro Konoe later admitted, "The thing that brought about the determination to make peace was the prolonged bombing by the B-29s."
The magnificent roar of those thundering bombers notwithstanding, that campaign could not have succeeded except for the skill and bravery of people like Paul O'Brien.