Acclaim For

ILLUSIONS OF MAGIC
"Illusions of Magic, set in Chicago in early 1933, does a masterful job of telling the highly entertaining love story between an out-of-work magician and his old flame... Rivard creates a historically accurate background for his cast of fascinating characters, creating a moving novel..."
Dr. Willard Oliver, Professor at Sam Houston State University and co-author of Killing the President.
"Illusions of Magic, a story of political intrigue in 1930s Chicago, is written in an informative, yet entertaining style. Rivard weaves into his narrative the true story of Chicago Mayor Anton Cermak's murder and he does it with accuracy and complete authenticity . . . Each chapter powers along, insisting you read 'just one more' part. The taut writing has a 'made for the movies' tension..."
Mel Ayton, author of The Forgotten Terrorist and Hunting the President.
"[The] writing is very good: the characters were vividly drawn; [it] kept me wanting to keep turning the pages [and] captured the history and 'feel' of Chicago in the 1930s."
John Wilson, author; Dean and Professor, Golden Gate University School of Law (retired).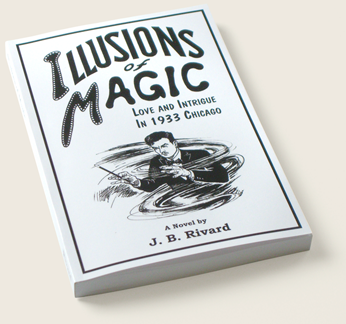 The Collectors Print Edition (CPE) contains the full text of ILLUSIONS OF MAGIC, all the author's illustrations, plus a special "Author's Word" preface, in a 6" x 9" deluxe 216-page, glossy cover edition by Gray Dog Press of Spokane, Washington.
Attention Readers!
The Illustrated Novel is
back! Illusions of Magic
features 14 illustrations by
the author—like this!
Sign up NOW
To become a Member of

"Nick's 99"
Members receive the deluxe, 216-page, illustrated, soft-cover
Collectors Print Edition
of ILLUSIONS OF MAGIC (shown below left)(shown above)
Each book is personally signed by author-illustrator J.B. Rivard
There is absolutely No Extra Cost
Register (below)
Buy the Kindle ebook of ILLUSIONS OF MAGIC for $2.99
Limited to the first 99 who sign up
Members:
join the fun by sharing with friends and other readers,
display the deluxe, signed, 216-page, fully-illustrated edition, and
offer and exchange opinions about the characters, the drama, and the history of Chicago in this unique novel.
Register
Hurry – Others are signing up right now!
For questions or comments concerning this website, please contact us at feedback@illusionsofmagic.com.
For questions or comments concerning this website, please contact us at feedback@illusionsofmagic.com.